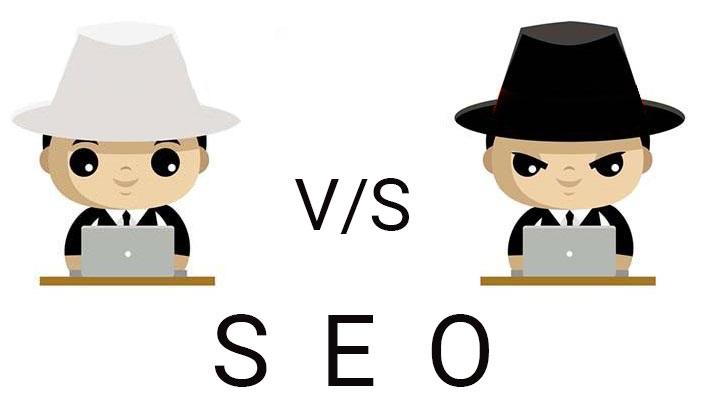 There is no doubt that White hat SEO techniques are better than Black hat.
Most importantly if you are looking for long term results, without being penalized by the google or other search engine, you should never think about using Black Hat Techniques.
On the other-hand, if you are looking for quick results by fooling the search engine, you may go with Black hat SEO techniques but for this you will always be on risk, your website will be penalized by the search engine anytime.
Firstly, Let us get an overview of What is SEO?
It is process of optimizing our website or webpages to achieve higher ranking in search engine result page(SERP). For attaining this we need to do various tasks so that we can make our website user and search engine friendly. We can achieve this by adopting a correct way or by manipulating the search engine to get our website on top ranking in search engine result pages.
Let us understand what are White hat and Black hat seo techniques:
White Hat SEO
These are Ethical techniques to acquire higher ranking for our website. The Techniques used is white hat SEO are:
Proper use of keywords,

Building quality back-links,

Making the correct use of relevant Title, tags and description.
Now the content plays very important role in building the trust of website. So as per white hat SEO techniques, the legitimate use of content is very important to gain higher ranking for our website.
In white hat SEO Techniques you must follow Google Web Master Guidelines(Rules by Google to optimize the website). You must follow the algorithms of search engine which are updates by the search engines from time to time.
Black Hat SEO
Unethical techniques to achieve ranking for our website. It include techniques like
Keyword Stuffing,

Cloaking,

Hidden pages,

Doorway pages,
using duplicate content to fool the search engine to gain the higher ranking in search engine.
Why is white hat seo better?
As google and other search engines keeps on updating their algorithms from time to time so we need to follow right techniques without deceiving the search engines, otherwise a single update can change the whole scenario of your website by blacklisting your site and whole your business will be ruined.
So at-last, I will advise you if you are looking to run your business for long time, you should not think about getting black hat seo done for your business. Always choose the best online marketing Services which Work as per the guidelines of Search engine.
Related Posts