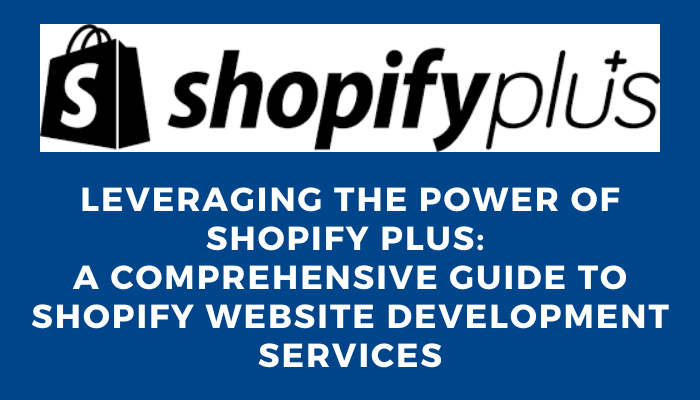 In the ever-evolving world of e-commerce, businesses constantly seek robust and user-friendly platforms to power their online stores. Among the many options available, Shopify Plus has emerged as a leading choice for enterprise-level e-commerce solutions. With its extensive features, scalability, and thriving community of Shopify Plus developers, Shopify Plus has become synonymous with success in the digital marketplace. In this article, we will explore the key benefits and functionalities of Shopify Plus and shed light on how businesses can leverage the expertise of certified Shopify developers to maximize their e-commerce potential.
Unleashing the Potential of Shopify Plus:
Shopify Plus is an all-in-one e-commerce platform combining the benefits of a content management system (CMS) with powerful e-commerce functionalities. This versatile platform allows businesses to effortlessly manage their online stores, streamline operations, and provide a seamless shopping experience to customers.
1. Scalability: Shopify Plus is designed to accommodate businesses of all sizes. Whether you're a small start-up or a large enterprise, Shopify Plus provides the scalability required to handle increasing traffic, sales volumes, and product catalogues without compromising performance or customer experience.
2. Customizability: With Shopify Plus, businesses can create visually stunning and unique online stores that align with their brand identity. Certified Shopify developers possess the expertise to tailor the platform to meet specific business requirements, resulting in a highly personalized and immersive user experience.
3. Enhanced Security and Reliability: As an enterprise-level solution, Shopify Plus offers industry-leading security measures and 24/7 monitoring to safeguard customer data and ensure uninterrupted website performance. This instils trust in customers and protects businesses from potential cyber security threats.
Harnessing the Expertise of Certified Shopify Developers:
To fully leverage the capabilities of Shopify Plus, partnering with certified Shopify developers is crucial. These professionals possess in-depth knowledge of the platform and can provide invaluable guidance and support throughout development. Here's how certified Shopify developers at Webtracktechnolgies can enhance your Shopify website development services:
1. Tailored Solutions: Certified developers deeply understand the Shopify ecosystem and can design custom solutions that align with your business goals and objectives. They can integrate third-party applications, develop unique themes, and optimize your website's performance to deliver an exceptional user experience.
2. Expertise in Shopify Plus Features: Shopify Plus offers many advanced features and tools, such as multi-channel selling, automation workflows, and personalized promotions. Certified Shopify plus developers are well-versed in utilizing these features to maximize your store's potential, drive sales, and improve customer engagement.
3. Ongoing Support and Maintenance: Shopify website development is an ongoing process that requires regular updates and maintenance. Certified developers provide continuous support, ensuring that your online store remains secure, up-to-date, and optimized for performance. They can also assist in troubleshooting issues and implementing new features as your business evolves.
Conclusion:
In the highly competitive world of e-commerce, choosing the right platform is pivotal for success. With its extensive features and scalability, Shopify Plus offers businesses a powerful tool to create and manage their online stores. By collaborating with certified Shopify developers, businesses can tap into the platform's full potential, creating tailored solutions that drive sales, enhance user experience, and stay ahead of the competition. So, embrace the power of Shopify Plus, and unlock new heights of success in the digital marketplace.
Read More Blogs on Shopify
Related Posts